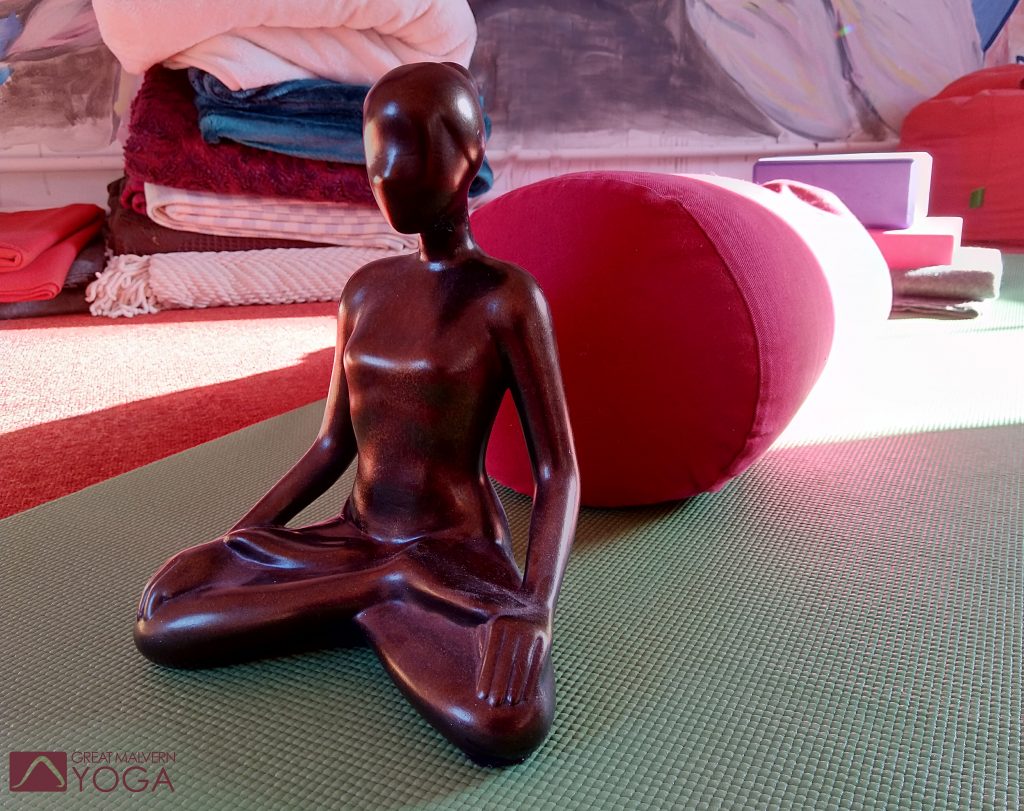 Practising yoga at home doesn't come naturally to some of us, whether it's finding a quiet space or having enough ceiling height to get your hands above your head (me), it's definitely been a learning curve over the last month.  I am so impressed and grateful for everyone's willingness to adjust and adapt to this new world of online yoga!  I thought I'd write a list of tips that might make your home yoga practice a little more enjoyable and "yogic".
1. Find or create some home-made yoga props!  If you are used to practising with props in class and if they will help make your practice a little more comfortable, use what you have around you.  It's been difficult to purchase yoga equipment online since lockdown began, but you don't need to buy fancy gear.  A few favourites include: sofa cushions to lift your seat or pad your knees, rolled up pillows or blankets as bolsters, hard cover books (I have some big hardcover gardening books!) as blocks, and the cord off your dressing gown or thin scarves as yoga straps.
2. Create a space for yourself. Whether that's your bedroom, a section of your living room or in the garden.  Try to make setting up your yoga space part of the ritual of coming to class.  Take 5 minutes to get your space how you want it.  Move your work stuff out of the way, and the laundry basket – clutter does not make for a conducive yoga experience!  Maybe light a candle, or put your diffuser on.  Great oils for yoga are patchouli and frankincense!  Let me know if you need any of that sort of gorgeousness – you can buy your oils through me.
3. Turn your bloody phone off!  And close down the email on your laptop!  You don't want to be seeing notifications popping up on your screen if you are on your tablet.  Take the time to prepare so you can enjoy uninterrupted peace during class.
4. Position your camera for individual adjustments. If you decide to have your camera on, it can help the teacher to have your camera positioned so that it can capture the entire width of your mat as well as your body when you are standing upright. Generally a distance of 2 metres works for most devices (yes, social distancing from your camera!). It can also be useful to have your mat positioned so that its at a 45 to 90 degree angle to your camera rather than facing the camera head on. These little changes make it so your teacher can more easily offer you individual instructions and cues.  I appreciate that this is not always possible given the constraints of the spaces you are practicing in.  Note: Keeping your camera off is always an option too!
5. Shut the door.  If at all possible, shut your loved ones out of the room.  It's beautiful to see you all being cuddled by your dogs during savasana – this is fine.  I'm talking about husbands, wives, partners, kids who wander through the space and ask questions about where the shed keys are or what's for tea.  They wouldn't be able to contact you if you were at the yoga studio!
Hopefully you find some of these suggestions helpful! Don't take them too seriously, you all know how I love a tongue-in-cheek blog post.  Most importantly, remember these tips are ways to enhance your experience – not hinder it!  Take what you like and leave the rest.